Our aim is to be true to the art of Hapkido. We do focus on a practical approach, specifically with self-defense skills at the core of our syllabus. We aim to teach our students the skills they need to perfect the art of Hapkido, whilst building confidence in their abilities, self esteem and their physical fitness. We have spent a long time developing our syllabus, to cover a wide range and variety of self-defense situations, and continue to review and solicit feedback with regards to what students want to study and where we can provide the most value. Our goal is to be current and innovate, we take martial arts seriously, but also strive to provide an approachable and supportive environment where students can enjoy learning as individuals, and importantly, as part of the Hapkido Hosinsul school.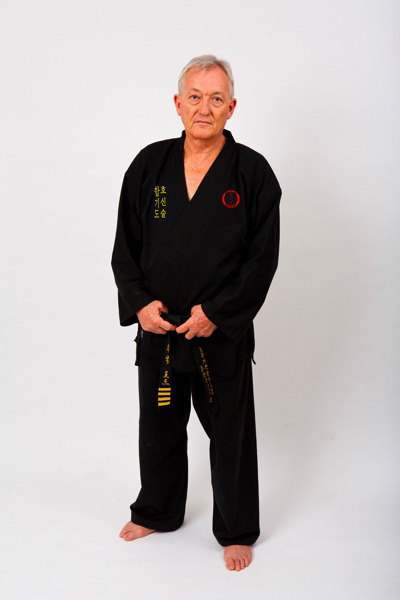 Warwick was one of the first few to join Matthew Sung Su Kim's Hapkido in Oxford St Darlinghurst, this was in 1979, by 1983 Warwick became the first white belt novice to grade as a black belt in what was to become known as the Australian Hapkido Association.
In 1983 Warwick opened a school in Sutherland south of Sydney, but with a growing family Warwick left the school with Daniel Marie, now a 5th degree with the Australian Hapkido Association, and moved to northern NSW where a short time later, Warwick established the first Hapkido school in the Tweed Valley,  Murwillumbah, in 1988 Warwick moved to Brisbane as one of his children required ongoing medical services long term, the school was left with Mark Berquist now a 3rd degree with the Australian Hapkido Association.
It didn't take very long for a desire to continue training, after an extensive search of the southside of Brisbane Warwick joined Woollangabba Hapkido, there he achieved multiple Dan rankings.
"The experience I gained training with Grandmaster Matthew Sung Su Kim was first rate, plus the experience I gained in the years studying at Woollangabba Hapkido, led me to create a homegrown Hapkido with less focus on tradition and a stronger emphasis on modern defence, hence the term Hapkido Hosinsul this was done in collaboration with Black Belt Instructor Russell Enever"
What Russell has to say about Warwick…
"I have been trained by many instructors, but with over 35 years Hapkido experience, Warwick is a real inspiration – his self-defense knowledge is vast and his passion and enthusiasm is infectious – he leads by example and his students are happy to follow with the right attitude and commitment." Russell Enever
Russ
Russell began is martial arts journey at the age of eight years old, practicing Judo over a period of seven years, before moving on to Ninjitsu in his late teens. After moving to Australia from England in 2006, Russell started kick-boxing and still enjoys this training and sparring in his spare time. In 2008, Russell began his training in Hapkido, and knew very early on that this was the discipline he had been looking for. Russ met two colleagues who inspired him to continue his Hapkido journey, Warwick Ford and Phillip Seaton. Phillip, who now lives in the UK, was a great mentor who took time in class, and in his spare time, to share his knowledge and skills and Russ credits Phillip with a lot of his success,
"I found an art that really suits me, using kicks, throws, joint locks and holds. I enjoy the variety it provides, but at the same the discipline that Hapkido requires. It has inspired me to study and consistently practice, and be as respectful as I can to the origins of this discipline. I am 36 years old and feel I am getting fitter, stronger and more flexible with every session."
Russell is now a black belt, and an enthusiastic trainer of Hapkido Hosinsul.